Let's be real, your ears need a break! 
Our new ear savers lets you wear your mask comfortably over your hijab, so you don't have to worry about sore ears and messy hijab styles!
Why should you get one? 
👂🏻 No more sore ears!
🦪 Made with beautiful freshwater pearls for a classic look
📐 2 sizes to pick from for your perfect fit

↪️

Doubles as a mask holder around your neck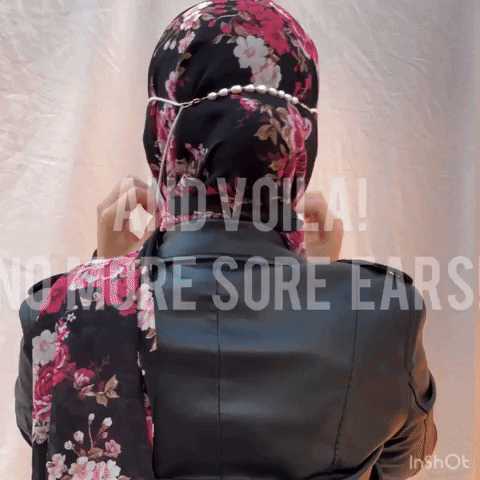 Check our IG for videos and how to wear: @honey.hijabs
 SIZING GUIDE: 
Medium- 7-7.5"
Large- 11" 
Any size will work with most adjustable masks with stretchy ear loops. If you have a lot of volume at the back of your head, large would be a better fit. If you're sill unsure, grab a measuring tape and see what will fit behind your head. 
CARE TIPS:
Store your mask extender in a cool dry place
Remove when sleeping, exercising, or doing other physically strenuous activities
Avoid contact with perfumes, body oils, and water
To clean, gently polish with a soft lint free cloth do not use chemical jewelry cleaners
Treat with care, don't drop or stretch excessively  
Please note: These are not medical devices. They are not endorsed by any medical agency or professional. Masks are not included. Not suitable for children. Our mask extenders are handmade, so no two pieces are alike.